Summer is a great time for taking all kinds of great action photos. More time outdoors means more great Full Screen Photo opportunities while at social gatherings, sporting events, and any summer activity where you can capture action photos.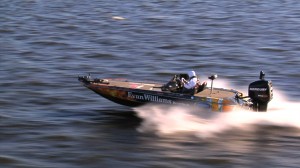 Below are 5 tips for capturing and turning an average action photos into a great action photos.
1 Review your stance:
This will help you keep a shot in your viewfinder as accurately as possible. Keep your shoulders steady and try to only pivot at the hips.
2 Adjust the exposure:
Try slowing the shutter speed to about 1/8 second. This will create a better blurred background while highlighting the subject of the photo. If you go much slower than that, you'll have trouble freezing the subject.
3. Zoom out:
This will allow you to capture the context of the shot, while not zooming too closely to see the bluriness of the subject.
4. Practice your follow-through:
Be sure to gentlely press the shutter, and continue to pivot with the motion of the photo even after the subject is out of the view finder. This will take some timing and practice.
5. Try selective sharpening:
Of course, a little photo editing never hurts make a photo even better. Try to add only sharpening effect to the subject when necessary, and not the entire picture.
To read more detail about these tips, check out this article from PC World.